Highway Patrol PSD Unit
The South Dakota Highway Patrol's Police Service Dog (PSD) Unit is an indispensable asset to the crime fighting efforts of all South Dakota law enforcement agencies. Formed in 1991, this Unit has grown to 12 teams and is responsible for intercepting millions of dollars worth of illegal drugs, confiscating millions in currency, weapons and vehicles, tracking individuals and locating key pieces of evidence.
The dogs are primarily Belgian Malinois. Each is paired with a designated handler, working and training in:
Narcotics detection
Explosive detection
Tracking
Criminal apprehension
Evidence recovery
PSD Training & Specializations
Narcotics Detection Dogs
Narcotics Detection Dog Teams complete approximately seven weeks of initial training, then work to seek out drug couriers, assist local law enforcement agencies, search for illegal drugs in schools, sniff suspicious packages through the mail and help in educating others about the dangers of drug use.
Patrol Dogs
Upon completing approximately seven weeks of Detection School training, Patrol Dog Teams attend an additional six weeks of training. In addition to drug detection, these dogs are trained in tracking and criminal apprehension and are used as an alternative to placing Troopers in unusually dangerous situations.
Explosive Detection Dogs
Explosive Detection Teams attend eight weeks of initial training, learning to find the odor of a variety of components that could be assembled into any type of bomb. This team responds to bomb threats and provides protective sweeps of the State Capitol and other State buildings in Pierre, along with sweeps prior to special events or the visit of dignitaries.
PSD Unit Teams
All dogs in the PSD Unit live at home with their handler and become part of the handler's family, but they must be ready to go to work at a moment's notice. As the dogs become accustomed to the rigors of law enforcement work, they look forward to the challenges presented to them each day.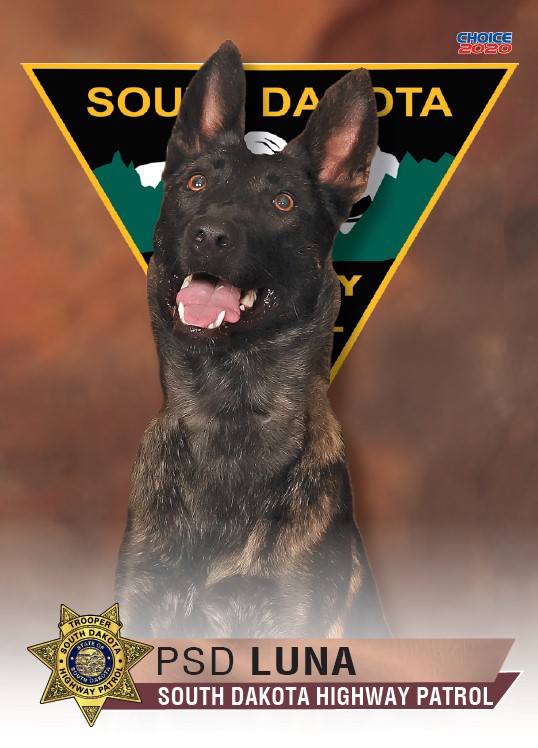 PSD Luna is handled by Sgt. Josh Olson. PSD Luna is a Dutch Sheppard from the US born in 2019. She is a single purpose dog, trained in the detection of the odors of illegal drugs. PSD Luna supports the Governor's Meth Initiative Task Force and is instrumental in assisting law enforcement in removing narcotics from our communities.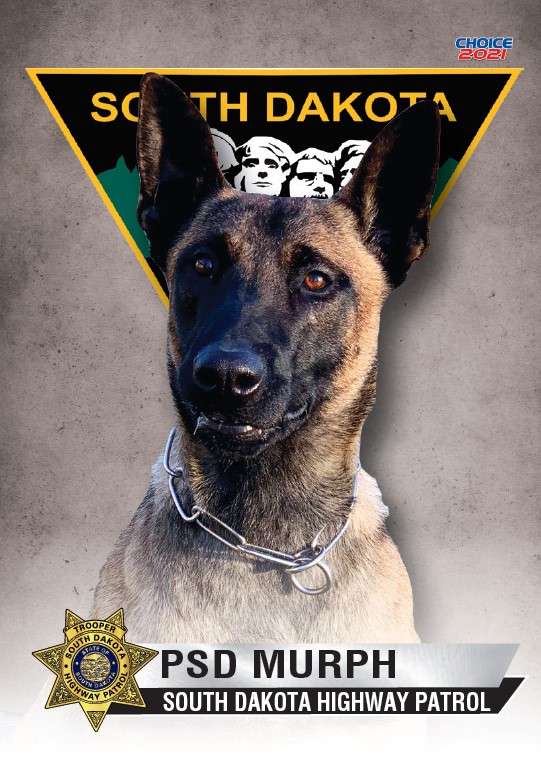 PSD Murph started working in the fall of 2020 and he is stationed in the Northeast part of South Dakota. Murph is a Belgian Malinois trained in the detection of illegal narcotics and is a very high drive dog full of energy. Murph is named after Medal of Honor recipient LT Michael P. Murphy, who was killed in action on June 28, 2005 in Afghanistan.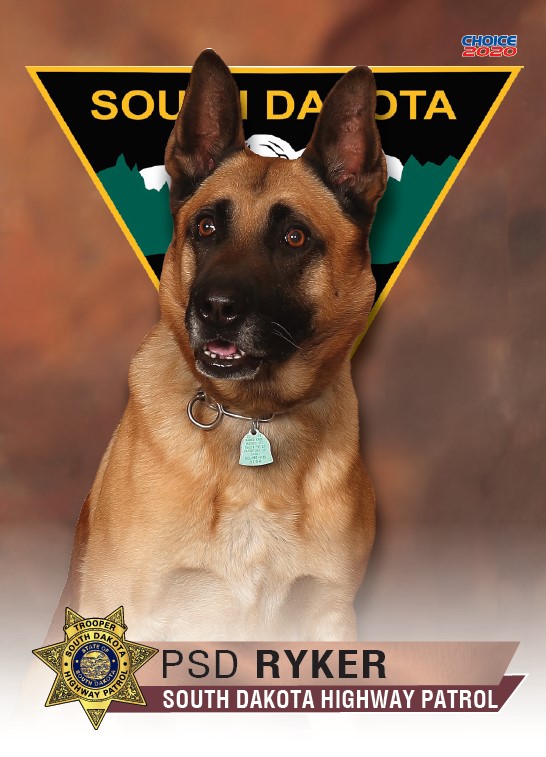 PSD Ryker is a Belgian Malinois handled by Trooper S. Johnson. Aquired at the age of 18 months by the SDHP in 2013, Ryker is now 9 yrs old. PSD Ryker is trained and certified in narcotics detection. Ryker is a very hardworking and high energy dog. He has contributed greatly to the success of local criminal interdiction in the state of South Dakota. While off duty, Ryker enjoys playing fetch and being a part of the Johnon family.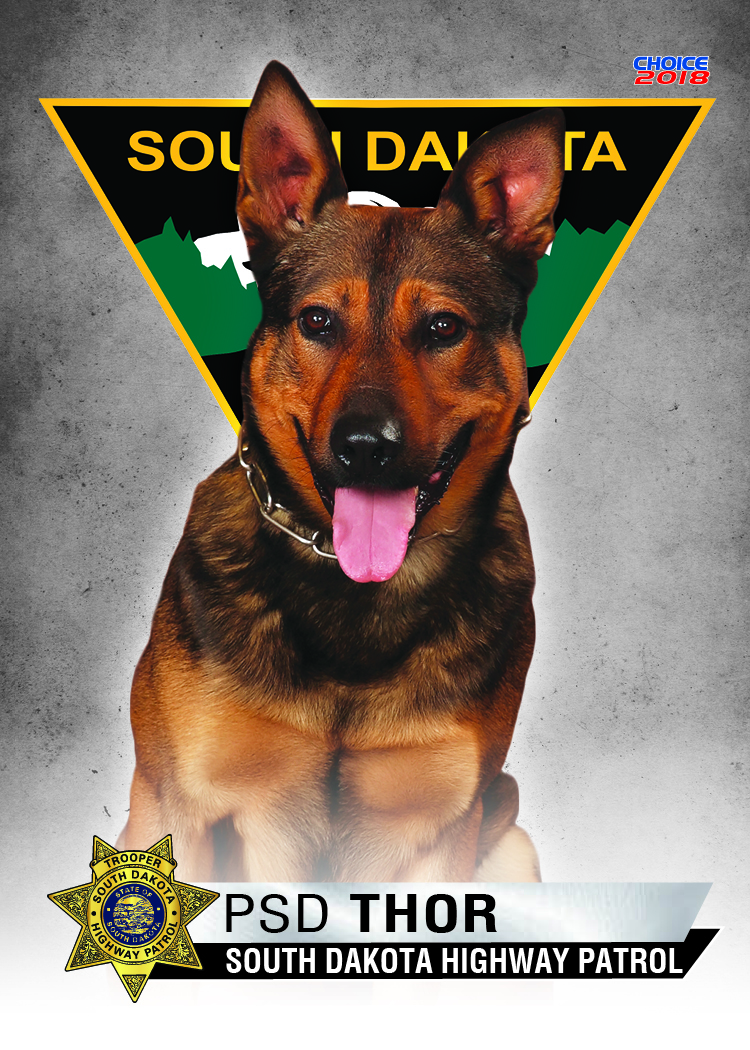 Trooper Steen began his career with the South Dakota Highway Patrol in 2004. In 2016, he was chosen to be a part of the PSD Unit. Trooper Steen's partner is Thor, a German Shepard trained in the detection of the odors of illegal drugs. Together they interdict criminals on the state's highway system.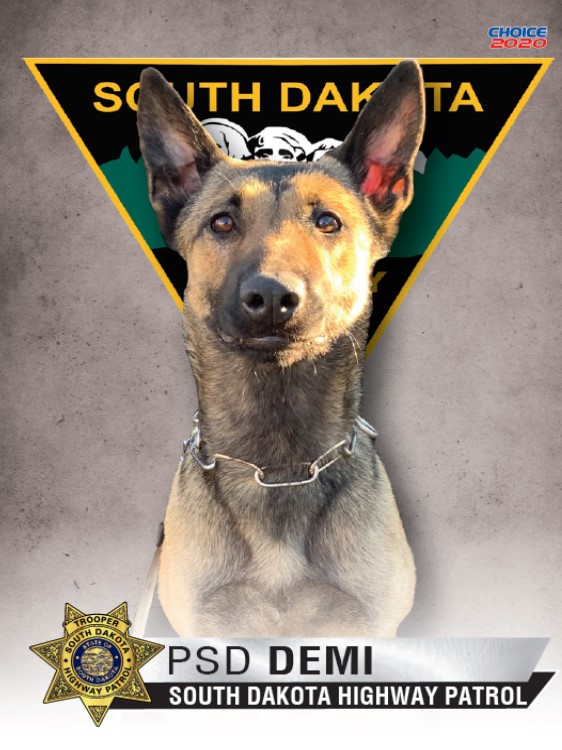 Trooper Jordan Anderson began his career with the South Dakota Highway Patrol in 2018. In 2020, he was selected to become a PSD handler and started training with his PSD partner Demi. Trooper Anderson and PSD Demi are stationed in central South Dakota. Demi is a Belgian Malinois and certified in the detection of narcotics. She loves to play and is very social.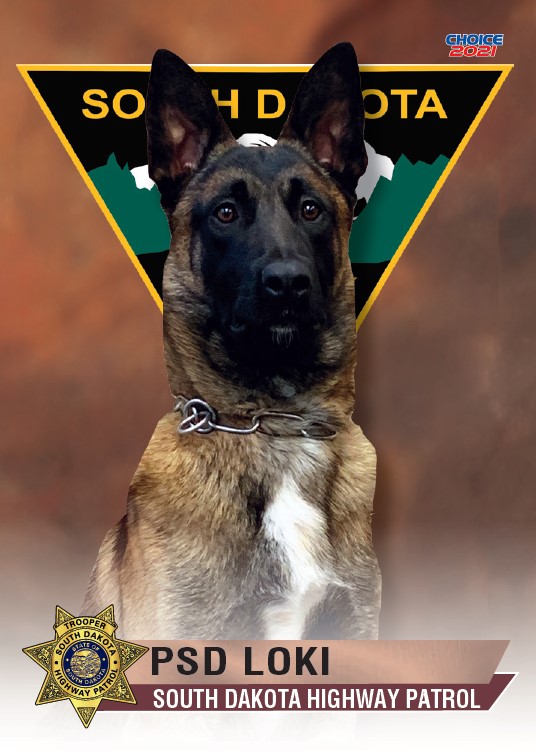 Trooper Berry began his career with the South Dakota Highway Patrol in 2012. In 2020, he was selected to be a part of the Police Service Dog West Unit. Trooper Berry and PSD Loki are stationed in Rapid City South Dakota. Loki is a Belgian Malinois trained and certified in the detection of narcotics. He loves to go to work every day and play tug.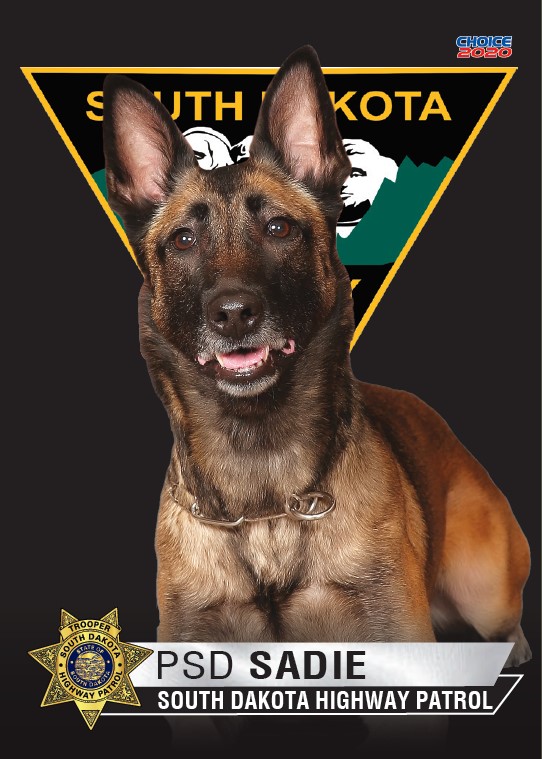 Trooper Dale joined the Highway Patrol in 2009 and became a PSD handler in 2012. PSD Sadie is Trooper Dale's second partner. Sadie is a Belgian Malinois certified in explosives detection, criminal apprehension, and tracking. The team is currently stationed in Rapid City.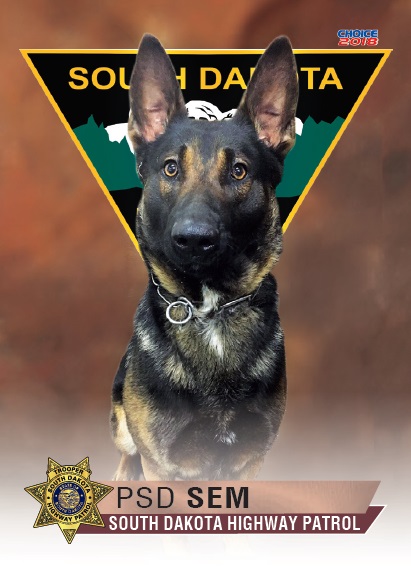 Police Service Dog Sem is a Belgian Malinois who came to the United States from the Netherlands in 2017 at just under one year old. Sem was purchased by the South Dakota Highway Patrol in January 2018 and completed his initial narcotics detector dog training in Rapid City. Since coming to the Highway Patrol, Sem has helped patrol the interstate and highways in the Black Hills area. Sem has been instrumental in the seizure of hundreds of pounds of illegal drugs and seizure of drug assets. Sem loves his job and looks forward to serving the citizens and visitors of South Dakota for years to come.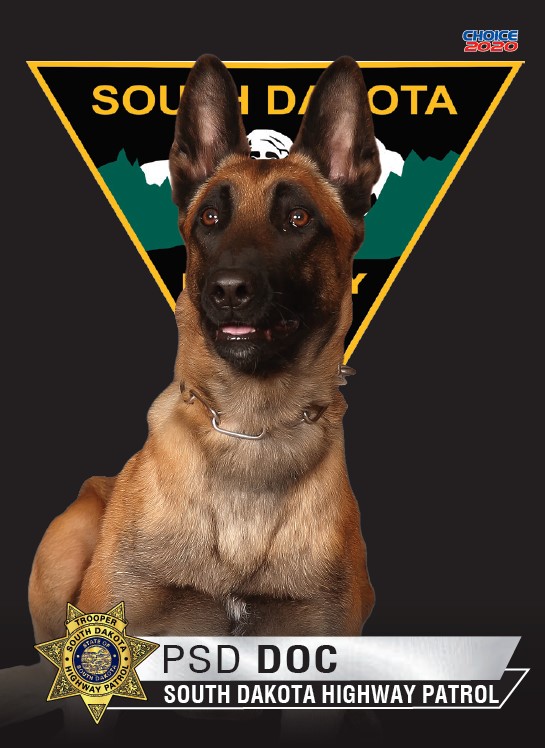 Doc is a Belgian Malinois born in November of 2017 in Croatia. Doc became a member of the South Dakota Highway Patrol in January 2019 and was assigned to Trooper Dennis Mez in Belle Fourche. Doc is a very high drive dog who loves to search and work. He is always ready to work, no matter the time or weather. At home Doc is very active and likes to spend time with the Mez family.